I've been really loving the letters lately over here (just check out
this post
, and all the other ones in
this series
), but I just can't seem to stop....
What can I say, I love letters! So, what am I waiting for - time for another Friday link-up with
The Sweet Season
!
Dear Readers
I know I've said this before (okay, a lot lately), but I'm
so
happy to have you here! Thanks for stopping by, and if I've never heard from you - I'd love if you'd leave a comment so I can get to know you! :)
Dear Semester
I can't believe you're halfway over. When this ends, I only have a year left - and I think that might be too terrifying for me to really consider right now. So let's hold off on the finals, shall we (even though I am
so
ready for summer)
Dear Yogurt with Just a
Bit
of Chocolate
you are delicious. I am going to keep eating you every morning, if that's alright with you.
Dear Really Great Sponsors
seriously, thanks a
ton
for a great month! You guys have been ridiculously awesome! (and if you're looking for a great blog to sponsor in April, I suggest these ladies)
Lindsay
/
Brandi
These two went so above and beyond, and I loved working with them!
Dear Doctor Who
I know I'm making myself sound like
such
a nerd saying this, but Sunday better get here quick! I can't wait for the new episode (even if I am a little bit worried, too).
PS. You do have some pretty great quotes, too....
Dear Spring
okay, I've said it before, and now I'm saying it again. April is on Monday - get your shit together, fast!
Dear Everyone Celebrating
Happy Easter! I hope you find tons of eggs :)
Dear Friday's Letters
thank you for giving me the opportunity to write
way
too many letters on this blog :) I'll see you again next week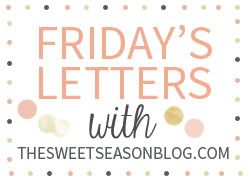 <3
Facebook

~

Twitter
~

Pinterest
~

Bloglovin'